Lightning-fast deliverability
We're like you: we hate waiting for "lost password" emails when we need them the most. On average, we forward an email in under 5 seconds. We don't just claim it, we actually have live metrics to prove it. See for yourself!
Apple

N/A

Calculating..

Gmail

N/A

Calculating..

Outlook

N/A

Calculating..

Yahoo

N/A

Calculating..
Last updated 5 minutes ago. Status page.
Our premium offer
Priority email delivery
and uptime guarantee.
Premium subscriptions help us keep our service free while maintaining a rock-solid infrastructure, and investing in new features. Unlike others, we're here to stay.
Just the right amount of features.
No less, no more.
Redirect to multiple addresses
Redirect to any number of email address you want, from the same alias. You can also send to "null", or even to a webhook!
Catch-all addresses
Set-up a "catch-all" email alias, which will redirect anything sent to your domain, so you are sure you don't miss anything.
Email logs
An email doesn't arrive? Something looks wrong? We've built up a full comprehensive logging system that helps you troubleshoot what's going on. See what we log.
Bulk import domains via CSV
Have many emails/domains you would like to create at once? Use our CSV import to generate them all at once.
API Access
Programatically interact with ImprovMX. Create domains, set and delete aliases, without ever needing to log-in on the web interface.
"Send mail as" with Gmail
Our solution allows you to send mail using Gmail as an SMTP relay. You can then send emails with your ImprovMX aliases! Follow our guide to set this up.
A super simple interface
to manage your aliases
Manage your aliases from our beautiful interface. Import domains, set your DNS through our simple step-by-step guides and manage your subscriptions all in one place.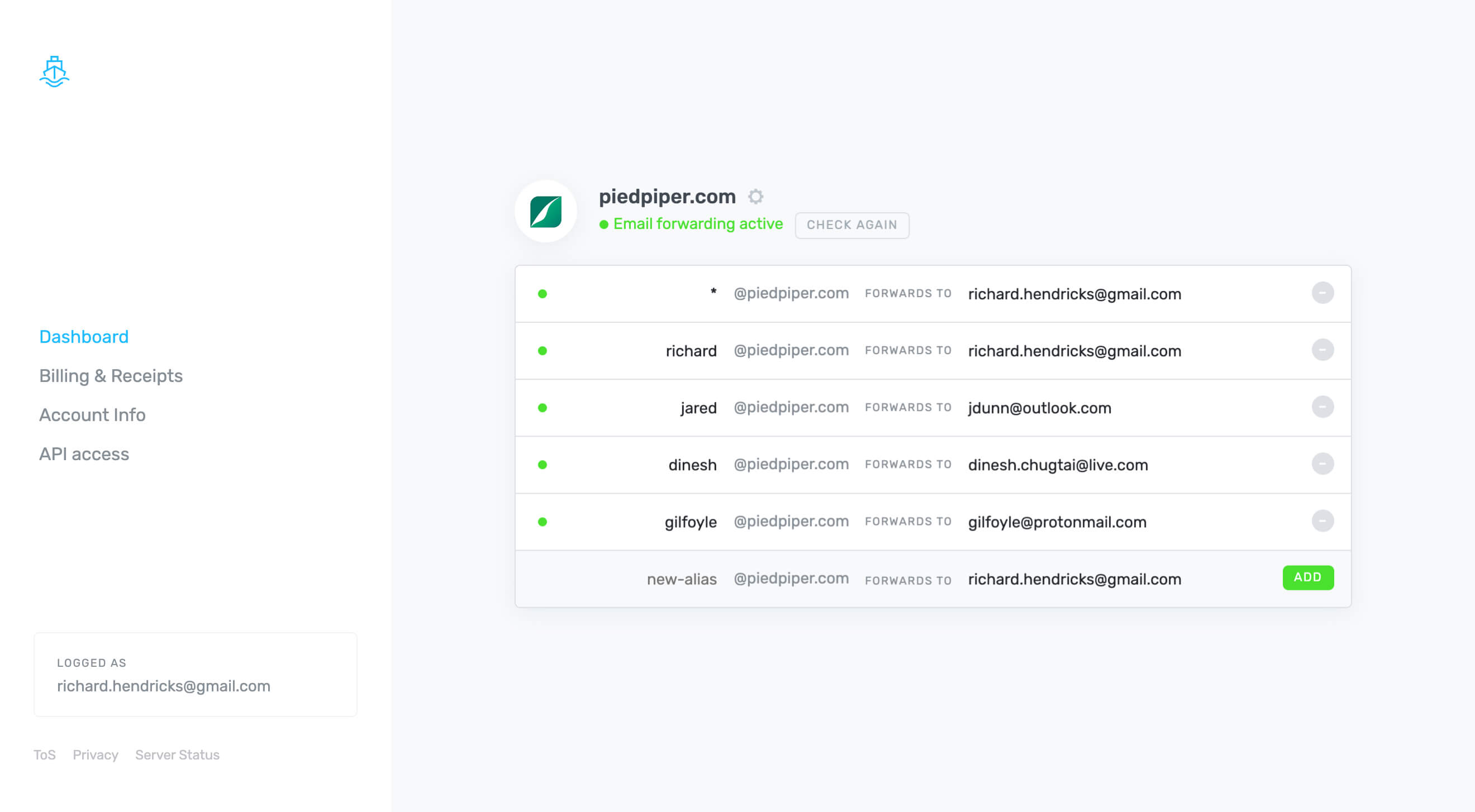 They forward with us
Some of the world's leading companies use ImprovMX to forward emails on their internal tools, side-projects or local specific domains.